On the eve of our August Gallery Auction, which includes 130 lots of silver accessories and tableware, we find ourselves considering the ever-changing mores of proper dining. From medieval trenchers and trestle tables to today's family-style and small-plates, how we eat politely is a sign of the times. Currently, though basic tables manners are always the mode, casual is king. We still value time spent over delicious food with good company, but we've lightened up considerably about the rules of what goes where on the table.
Emily Post was the most iconic author of those rules, and the first edition of her Etiquette—The Blue Book of Social Usage is a sublimely detailed accounting of every principle of decorum of the day. And so we are taking an anthropological dive into "Etiquette" to bring you an illustrated guide to some of Ms. Post's most entertaining prescriptions on how to properly conduct a formal dinner. Because while pickle forks and sardine tongs may be charmingly anachronistic, they are enduringly beautiful. And taking the time to elevate the daily routine of dining to an elegant ritual will never go out of style.
"NOT FOR THE NOVICE TO ATTEMPT"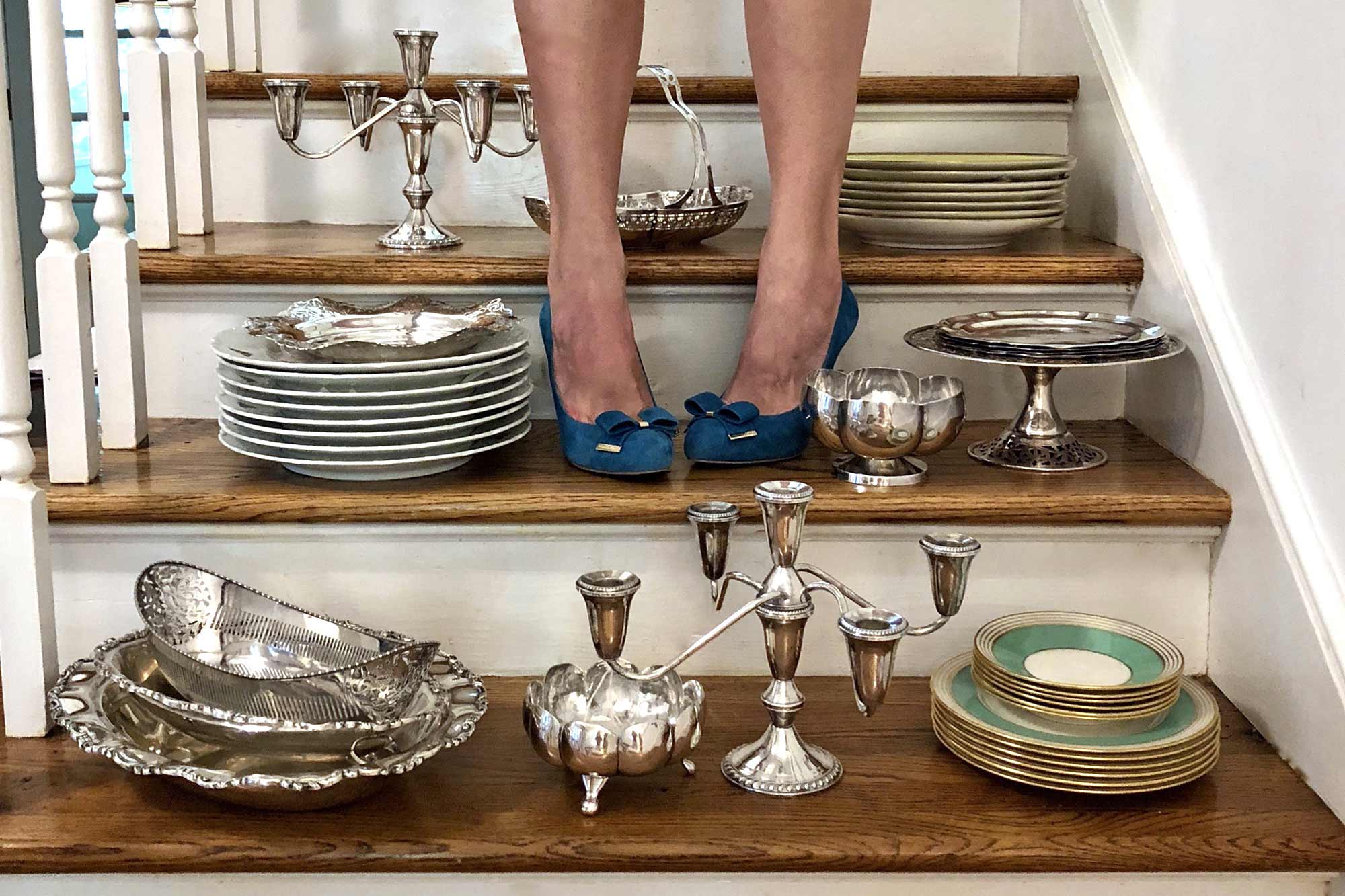 "There are so many aspects to be considered in dinner giving that it is difficult to know whether to begin upstairs or down, or with furnishing, or service, or people, or manners! One thing is certain, no novice should ever begin her social career by attempting a formal dinner, any more than a pupil swimmer, upon being able to take three strokes alone, should attempt to swim three miles out to sea. The former will as surely drown as the latter."
"THE MENU"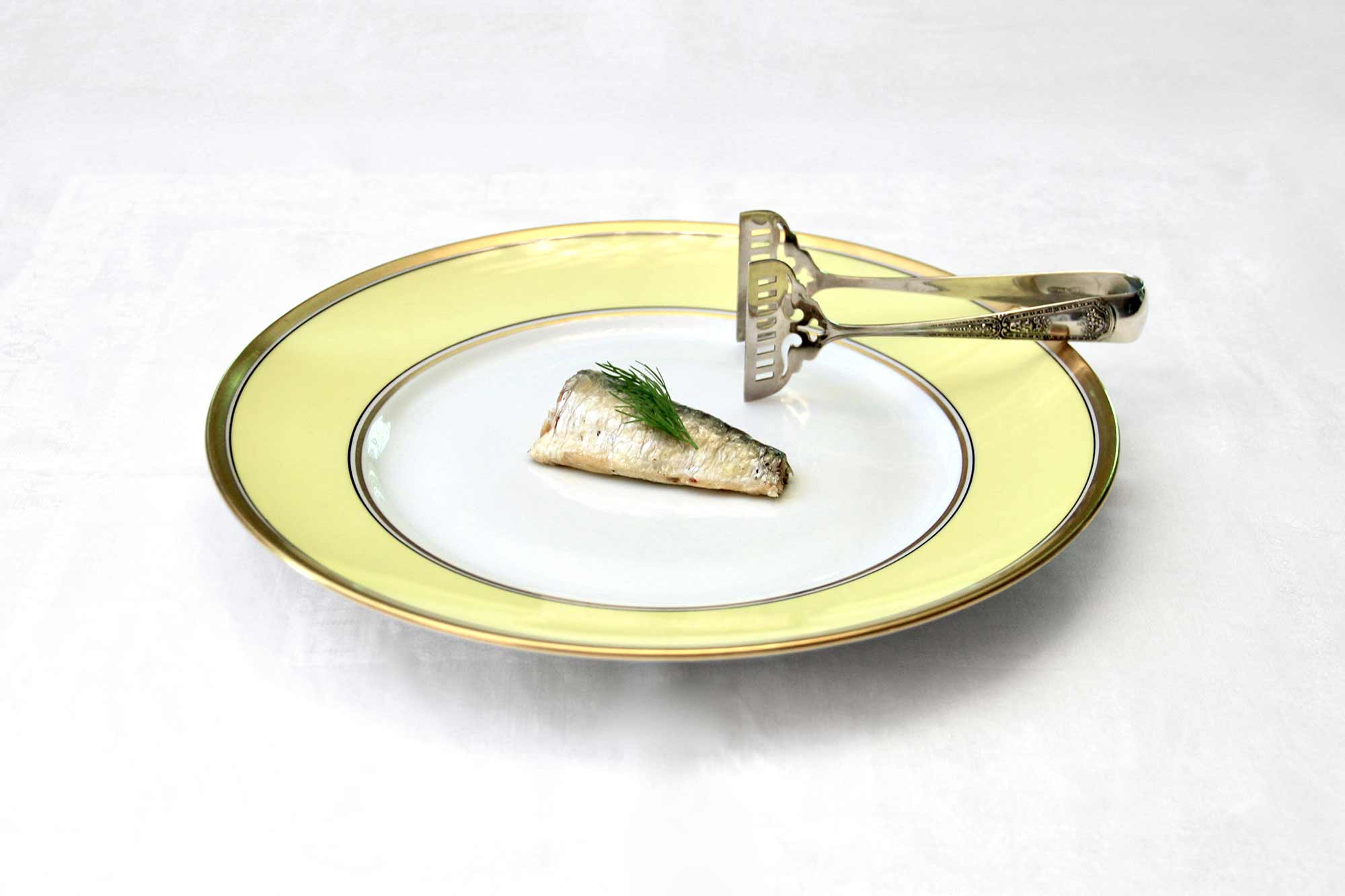 "It may be due to the war period, which accustomed everyone to going with very little meat and to marked reduction in all food, or it may be, of course, merely vanity that is causing even grandparents to aspire to svelte figures, but whatever the cause, people are putting much less food on their tables than formerly."
"SETTING THE TABLE"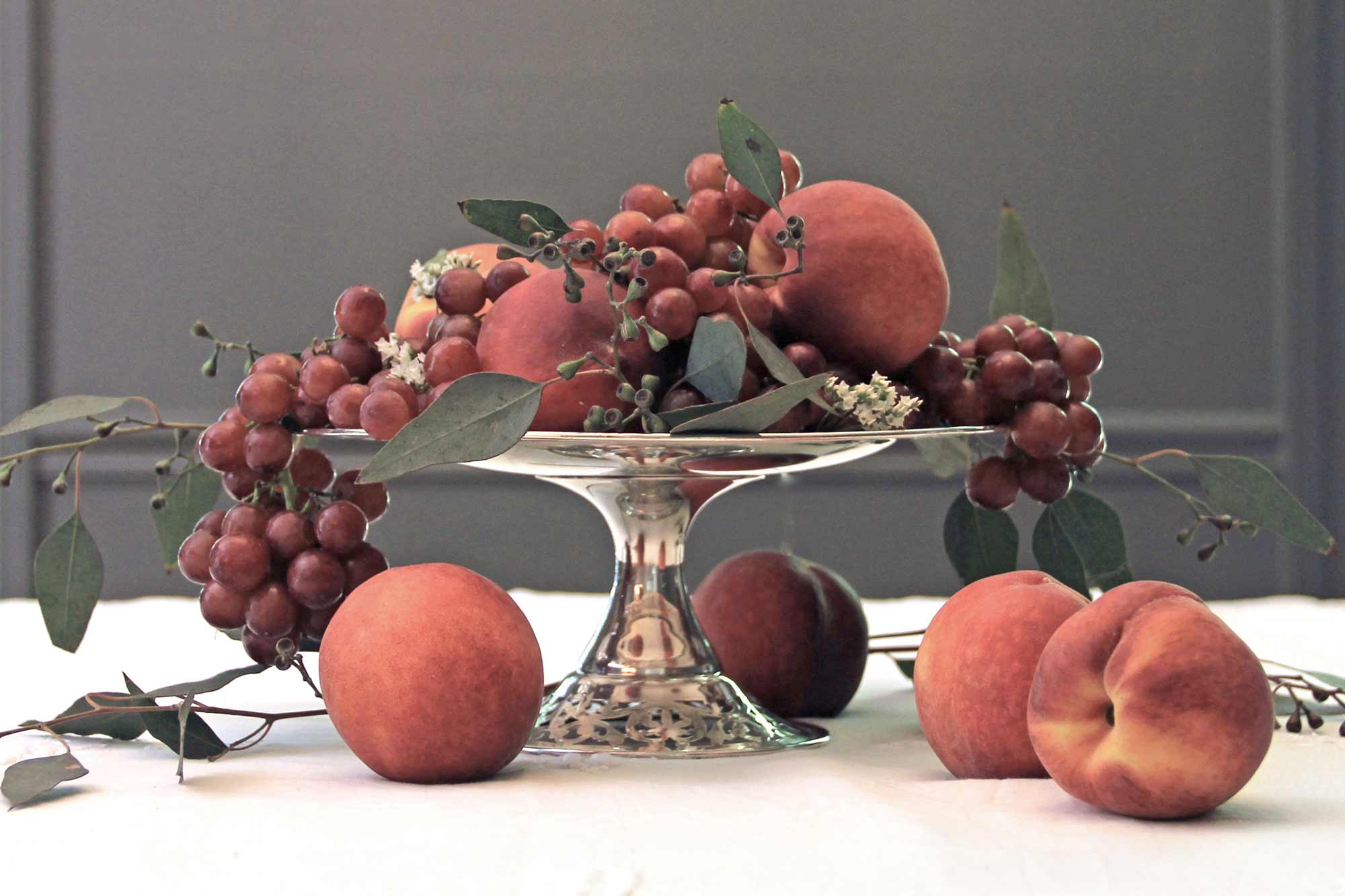 "Next goes the centerpiece which is always the chief ornament. Usually this is an arrangement of flowers in either a bowl or a vase, but it can be any one of an almost unlimited variety of things; flowers or fruit in any arrangement that taste and ingenuity can devise; or an ornament in silver that needs no flowers, such as a covered cup; or an epergne, which, however, necessitates the use of fruit, flowers or candy."
"HAVE SILVER THAT SHINES OR NONE"

"The silver polishing of perfection in huge houses is done by such an expert that no one can tell whether a fork has that moment been sent from the silversmiths or not. It is not merely polished until it is bright, but burnished so that it is new! Every piece of silver in certain of the great establishments, or in smaller ones that are run like a great one, is never picked up by a servant except with a rouged chamois. No piece of silver is ever allowed by the slightest chance to touch another piece. Every piece is washed separately."
"...ALMOST TO THE EXTREME OF BARENESS."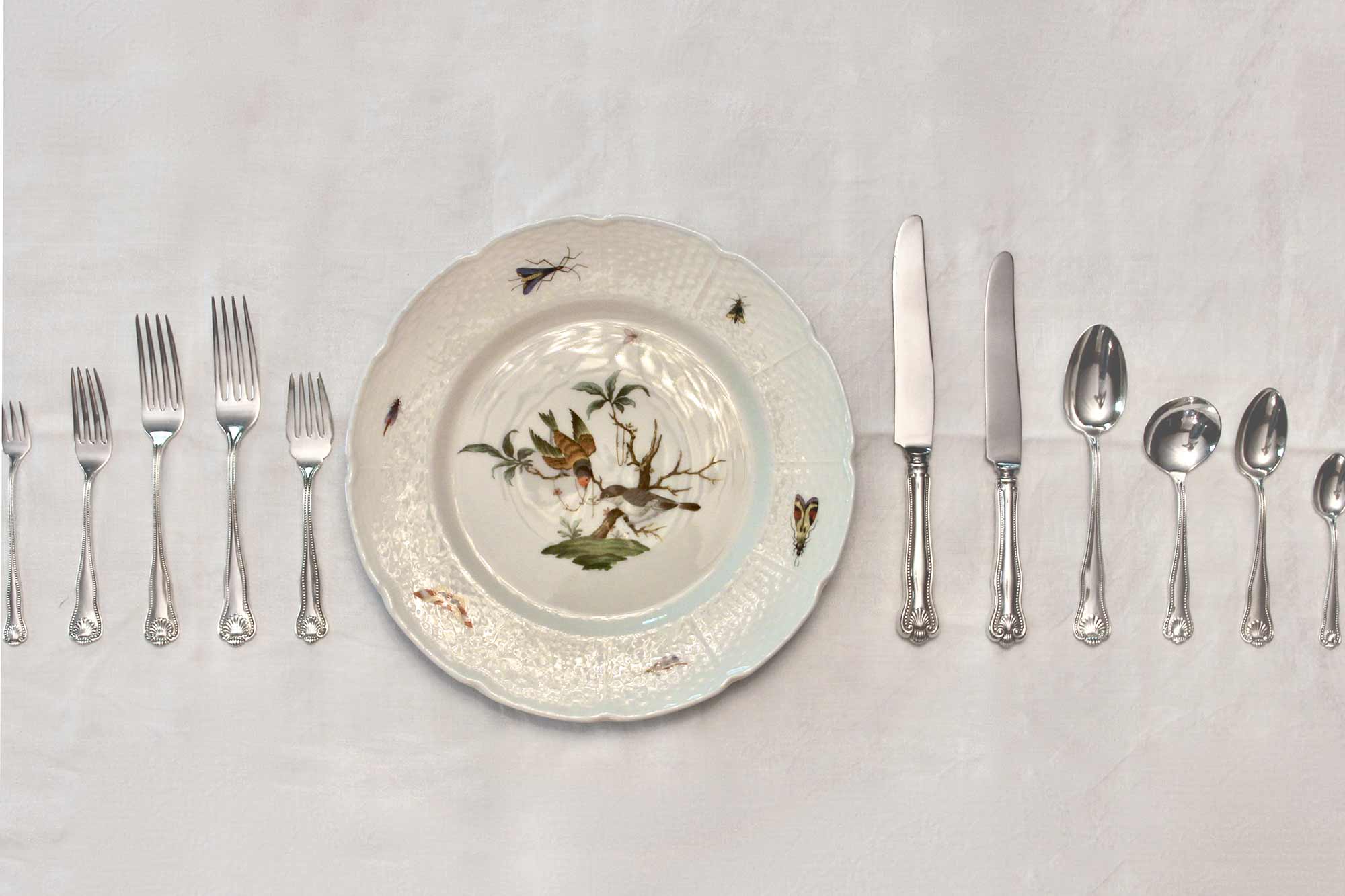 "As though recovering from an illness, good taste is again demanding severe beauty of form and line, and banishing everything that is useless or superfluous....to the left of each plate, handle towards the edge of the table, and prongs up, is put the salad fork, the meat fork is put next, and then the fish fork. The salad fork, which will usually be the third used, is thus laid nearest to the plate. If there is an entrée, the fork for this course is placed between the fish fork and that for the roast and the salad fork is left to be brought in later. On the right of the plate, and nearest to it, is put the steel meat knife, then the silver fish knife, the edge of each toward the plate. Then the soup spoon and then the oyster fork or grape fruit spoon. Additional forks and knives are put on the table during dinner."
"TAKING LEAVE"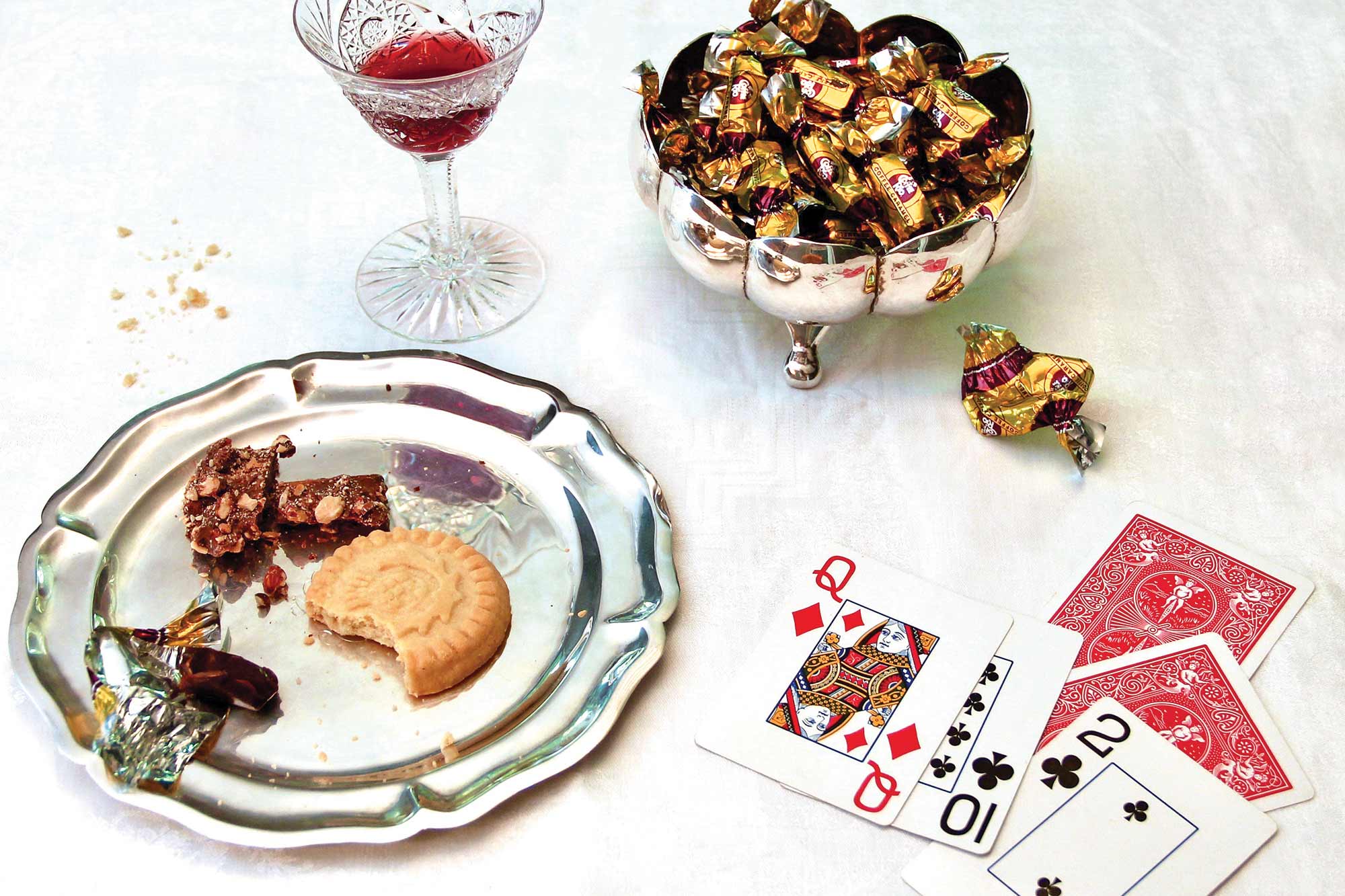 "The bridge people leave as they finish their games; sometimes a table at a time or most likely two together. (Husbands and wives are never, if it can be avoided, put at the same table.) Young people in saying good night say, "Good night, it has been too wonderful!" or "Good night, and thank you so much." And the hostess smiles and says, "So glad you could come!" or just "Good night!""
Content created by the Leland Little Editorial Team