The Roots of Cool: The Stars of the Hammond B-3 Organ
As any kid who ever slogged through his scales knows, learning to play an instrument is just plain hard. Even for the Beethovens and Bob Dylans of the world, mastery of a musical instrument takes hours upon hours of painstaking practice. There's very little glory in those early days of the musical journey, which leads us to one of the most charming, unheralded truths about superstar musicians - behind every rock star is a run-of-the-mill music geek, picking out tunes in his bedroom or basement.

Bob Dylan
The Hammond B-3 electric organ, one of which, complete with Leslie speaker, we are offering in our Memorial Day Auction, shares this rags-to-riches trajectory with the music legends who would end up playing a B-3 all the way to fame and fortune. The instrument, developed by serial inventor Laurens Hammond, in between inventing 3D glasses and a self-dealing bridge table, was not born to cool. Hammond himself had no musical skill at all - he was simply interested in how he could produce different tone frequencies electrically. His assistant accountant, who was the organist at an Episcopal church, encouraged Hammond to turn his electrical tone technique into a full-fledged organ.
The Hammond organ was intended initially as a low-cost option for churches that couldn't afford a pipe organ. But musicians the world over quickly caught on to the Hammond's ability to produce a wide range of sounds - George Gershwin placed one of the very first orders for the Hammond model A before it was even off the assembly line. The Hammond did enjoy a period of popularity in homes and churches, but when the company introduced the B-3, which included a harmonic percussion feature, and the Leslie rotating speaker became a non-negotiable accompaniment (much to Laurens Hammond's chagrin), the jazz world adopted the instrument and it was never not cool again.
The roster of jazz, blues, and rock stars who have played a Hammond B-3 is a mile long, and they all have their own, music-nerd-meets-impossibly-complicated-instrument story of how they came to play, master, and love it. Interestingly, most of these stories take place early in these rock star lives, before the musicians had even fully emerged from their basement-picking days into stardom. Some of them would add the organ to the laundry list of instruments they played, while others would develop a life-long dedication to the B-3 and only the B-3. Below are the Hammond B-3 origin stories of some of its most well-known players, in all their geeky glory.
Jimmy Smith

While Jimmy Smith wasn't the very first to bring the electric organ into the world of jazz, he's widely credited as the most influential. Born in either 1925 or 1928 (a matter of debate) Smith got an early introduction to the musical life as the son of a song-and-dance club performer. Smith was performing with his father by the time he was six (or nine) years old and winning boogie-woogie piano contests by nine (or 12). After a stint in the Navy, Smith went to music school on the GI Bill. Some time in the early 1950's Smith saw Wild Bill Davis play a Hammond, and by 1953 had purchased his own, newly developed B-3. Smith's own account of his self-indoctrination on the organ goes like this: "When I finally got enough money for a down payment on my own organ I put it in a warehouse and took a big sheet of paper and drew a floor plan of the pedals. Anytime I wanted to gauge the spaces and where to drop my foot down on which pedal, I'd look at the chart. Sometimes I would stay there four hours or maybe all day long if I'd luck up on something and get some new ideas using different stops." When Smith came out of that warehouse he brought a gospel-infused organ sound to the jazz scene that would leave an indelible mark on jazz, the blues, rock, and everything in between.
Al Kooper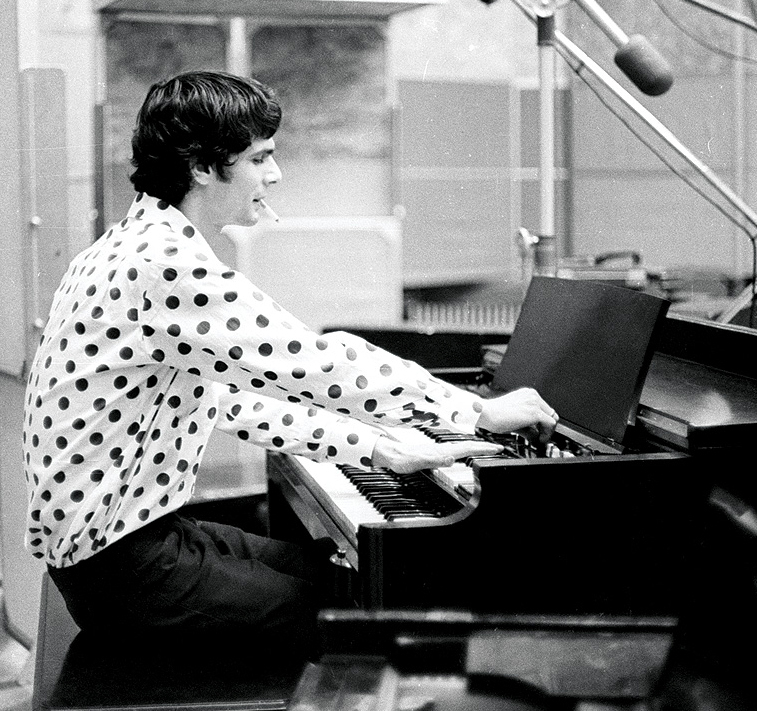 Like so many truly gifted musicians, Al Kooper was an absolute polymath. He too learned the piano at age six, then the ukelele and guitar. In 1958, when Kooper was 14 years old, he and his then-band, the Royal Teens, had a top five hit, "Short Shorts." Kooper moved to New York and began to find a bit of work as a sound engineer and session player. Somewhere along the way, he taught himself to the play the organ, because in 1965, at age 21, when he found himself in the studio while Bob Dylan was recording Like A Rolling Stone, Kooper sat himself down at the Hammond B-3 uninvited and right then and there became a keyboardist. Kooper went on to play and produce a wide range of music from Blood Sweat & Tears to Lynyrd Skynyrd, but he never quit playing the Hammond B-3.
Steve Winwood
Steve Winwood was another musician who got his start in his father's act. Winwood's father was a semi-professional musician who brought his son on as a pianist at such a young age that he had to turn the piano away from the crowd in bars and clubs since Steve was so obviously underage. Before he had even graduated from high school, Winwood was playing back-up guitar and the Hammond C-3 organ for American blues artists like Muddy Waters, John Lee Hooker, T-Bone Walker, and B.B. King on their UK tours. At 14 Steve Winwood and his brother, Muff, joined the Spencer Davis Group. With the money he earned from the group's first number one single, "Keep On Runnin'," in 1965, Winwood bought his first Hammond B-3. On it, at age 17, Winwood and his brother and Spencer Davis wrote "Gimme Some Lovin'," the group's next number one song and one of the most iconic electric organ songs of all time.
Gregg Allman

Born in Nashville in 1947, Gregg Allman and his older brother Duane spent more time pursuing their musical interests, stoked by the local scene, than they did in school. Their single mother moved her sons to Daytona Beach when Allman was 12, where he promptly got a paper route to earn enough money to buy himself his first Silvertone guitar. The brothers remained dedicated listeners to the Tennessee radio station WLAC, and it was on a late night jazz show on that station that Allman first heard Jimmy Smith play the organ. Some short years later, Allman found himself house-sitting for a friend in California who happened to own a B-3. Allman became a devotee. In a 2017 interview with Keyboard magazine, Allman described how he got his own first Hammond B-3:
"Just around the time that the Brothers were first starting, [bassist Berry] Oakley had this old Victorian home, and one day I was blindfolded and led into this big room. When they took the blindfold off, I was amazed to see this brand new 1969 B-3 with Leslie 122RV cabinets. There were about eight rolled joints on the keyboard, and they said, "Have fun. We'll see you in about a week or so." That day is still one of the happiest days of my life. While they were gone, I wrote "Whipping Post" and most of the songs that wound up on the first Allman Brothers album. I was really on a roll."
Booker T. Jones
You can hear Booker T. describe his own indoctrination on the Hammond B-3 in this video, but in short, Jones was another child music prodigy. Born in Memphis in 1944, Jones learned to play the saxophone, oboe, trombone and piano as a child. As he tells it, his childhood piano teacher had a Hammond organ in her home. Jones, thinking it was just a piece of furniture, asked her what it was. She told him he wasn't ready for it. After persistent pestering, Booker T Jones finally wore his teacher down, and he was allowed to learn the organ. By 17 he had written another one of the Hammond organ's anthems, "Green Onions," with his band Booker T. & the MGs. He plays the piece for an NPR Tiny Desk Concert in the video above.
From its humble start in a tone-deaf inventor's workshop and then in churches and chaste living rooms everywhere, the Hammond B-3 was transformed into the ultimate musical shorthand for insider cool. If you've heard of it, and can pick it out in the incredibly famous songs in which it features, you're deep inside the zeitgeist of the blues, soul, jazz, and rock. And if you can acutally PLAY the Hammond B-3, chances are you too were once a young musical fanatic, in thrall to its peddles, pull bars, and pure harmonic potentcy.
Hammond B-3 Organ with Leslie Cabinet
Content created by the Leland Little editorial team