Early American Food Storage; bringing character to contemporary spaces
Before refrigerated shipping made it possible to consume blueberries from Chile in the Midwest in January, winter fruit and vegetables came in the form of preserves, put up in the heat of harvest and tucked away in the ubiquitous food safes that resided in every continental abode. These safes were constructed from whatever regional wood was available, and were thoroughly utilitarian in design. While most often situated in a kitchen, sometimes more decorative pieces were built for dining rooms.
Food safes were built to contain several different kinds of comestibles. Jelly cupboards like the above (of which we have several examples in our May Gallery Auction were generally mid-height, two-door affairs with short shelves to accommodate jars of preserves. All food storage cabinets were built off the ground to keep the food elevated from pests and dirt.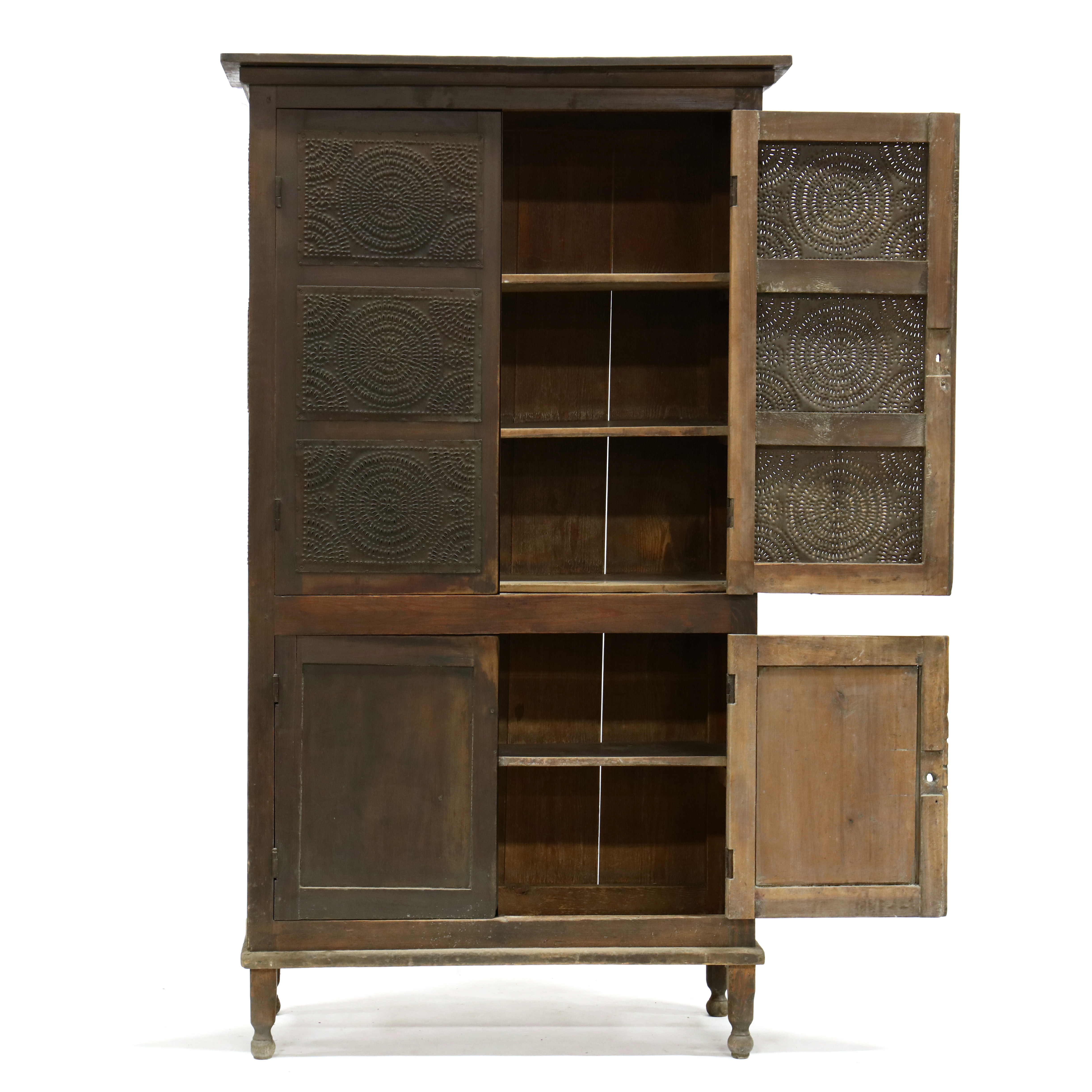 Pie safes, or food safes, were fully enclosed like jelly cupboards, but had punched-tin panels that allowed for ventilation to keep warm food from steaming and molding. The cabinet above, which will be sold in our Important Summer Auction, is a particularly rare example of a milk safe. In this case, the cream risers would have been stored in the bottom compartment, and the milk crocks would have been stored in the top, ventilated area.
We no longer count only on cupboards and canning to keep our food fresh for us, but these antique items can still add character to our homes. When deployed in the company of contemporary fixtures, they bring personality and context to a space. And, like most decorative elements, they're at their best when mixed artfully with items of different eras and styles.
Outside the Kitchen
Food safes aren't just for food anymore. Below are examples of these cupboards being used in the laundry room and bathroom. In the second case a jelly cupboard was creatively repurposed as the building block for a custom bathroom vanity. In both instances the cupboards bring just the right warmth to a functional room.
Insert Color Here
Food safes and jelly cupboards were often painted originally, as an inexpensive way of finishing the wood. With the patina of age that antique paint makes for a subtle way to brighten the palette of your decor, and add contrast in otherwise neutral spaces like kitchens and bathrooms.
Modern storage solutions tend to focus on built-ins, but adding a functional piece of storage furniture to the mix gives depth to a room and can help define a space. And since these pieces weren't massed-produced, but built one at a time by a particular hand for a particular house, they bring singularity to your interior design.
Content created by the Leland Little editorial team; lead photo taken by Justine Hand for the Harbor Cottage in Maine.