Andy Warhol before "Andy Warhol"
Before the Andy Warhol of Campbell's Soup cans, Marilyn Monroe, Studio 54 and The Factory, there was the Andy Warhol who illustrated children's books and lived with his mother. In our upcoming Important Fall Auction we will be selling a plate from the last, and biggest, of a series of self-published books that Warhol created in those early years of his career: Wild Raspberries, the deliciously satirical cookbook Warhol produced with socialite Suzie Frankfurt.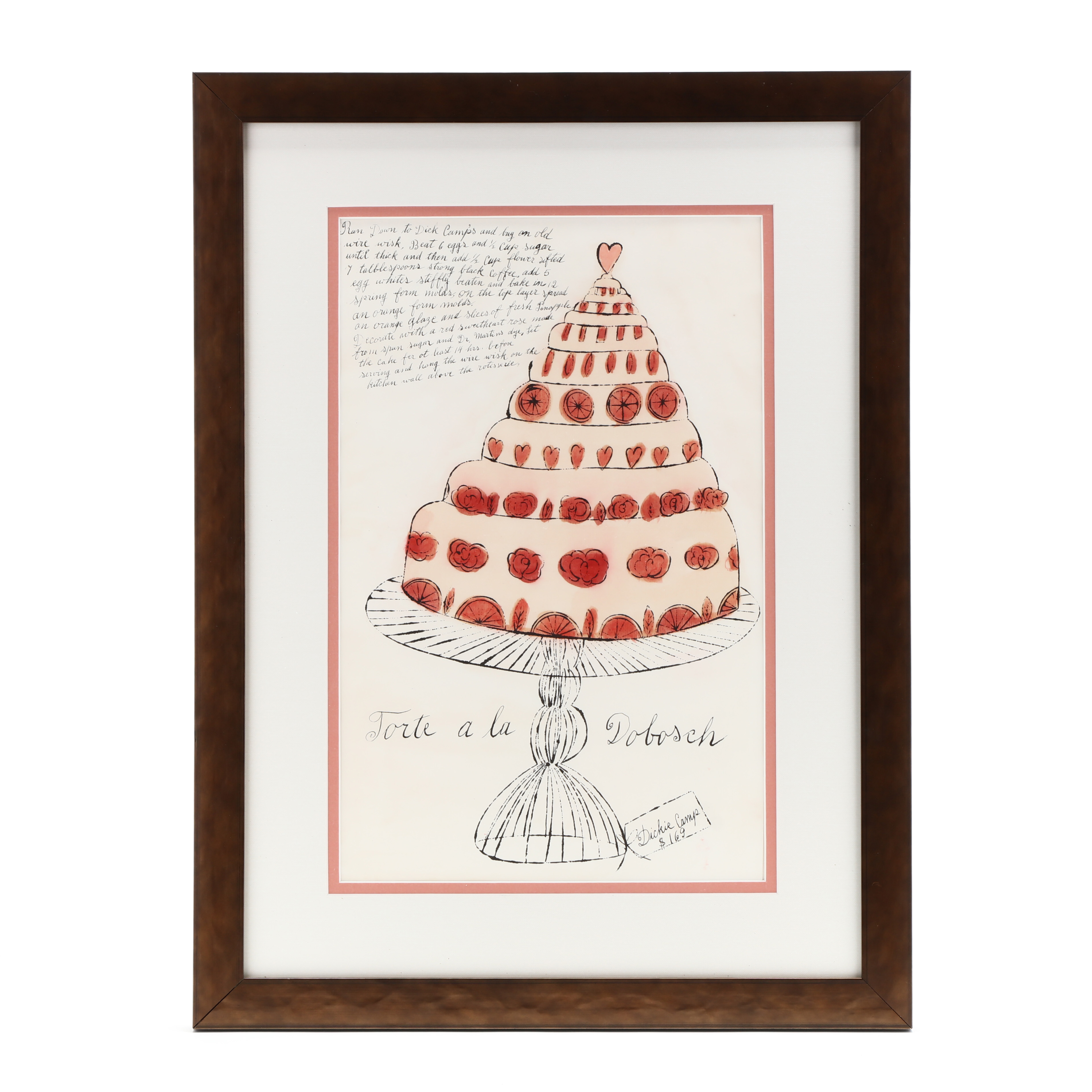 Andy Warhol started out like any good art student, by getting a degree from the Carnegie Mellon Institute of Technology in Pictorial Design. He then moved to New York and embarked on his career with a practical bent, becoming a freelance artist for Doubleday children's books, as well as doing drawings for hundreds of I. Miller shoe advertisements, among other brands. He was popular on Madison Avenue and even won several Art Director's Club awards for his illustrations.
But apparently the ad business wasn't a lucrative one for artists in the 50's, and the story has it that when Warhol's mother, Julia Warhola (Andy anglicized his surname when he moved to New York), got wind of his squalid living conditions she took it upon herself to move in with and care for her youngest son. For Warhol, at least, living with his mother proved to be a creatively stimulating situation.
Warhol and Warhola kept cats. Many of them. And they were all named Sam, save Julia's favorite, who was Hester. In 1954 the cats inspired the first Andy/Julia collaboration, a limited edition, hand-colored book of cat drawings, 25 Cats Name Sam and One Blue Pussy. Andy made the prints, and Julia provided the calligraphy and quirky misspellings that would add charm to all of the subsequent books they produced together.
Enter Suzie Frankfurt, interior designer and bohemian hostess-about-town. Frankfurt spotted Warhol's drawings at the Serendipity ice cream parlor, which would periodically put on art exhibitions. She was taken with his work, and pulled the strings of the social fabric to arrange a meeting. The two formed a friendship that would last until Warhol's death in 1987. In 1959 they conceived of Wild Raspberries as a send-up of the obsession with stuffy French cooking that was taking mid-century foodies by storm.
Some have noted that Warhol's method of creating these books presaged the kind of assembly-line system he would later set up at his famous studio The Factory. He conceived of the art, and a series of "art-workers" would execute it. For Wild Raspberries this meant that Warhol did the drawings, Suzie wrote the recipes, Julia did the calligraphy, four schoolboys who lived upstairs from Warhol were hired to do the hand-coloring, and the books were taken downtown to be bound by rabbis. The process was painstaking, and so the group only produced an initial run of 34 books. They planned to make more as orders came in, but that demand never materialized and Frankfurt and Warhol ended up giving most of the books away as Christmas gifts. Wild Raspberries was never heard of again through all of Warhol's hugely public career, until Frankfurt's son discovered a copy in his mother's papers and mass-produced the book in 1997.
With the magic of hindsight, the recipes in Wild Raspberries are possibly even funnier than they were in their own time. They throw a withering light on the pretensions of the day, which coming from someone as ensconced in the upper class as Suzie Frankfurt was, comes off as charming rather than mean. In the below recipe for "Piglet", for instance, the cook is instructed to "Contact Trader Vic's and order a 40 pound suckling pig to serve 15. Have Hanley take the Carey Cadillac to the side entrance and receive the pig at exactly 6:45."


In another, for "Chocolate Balls a la Chambord" the dessert is recommended "only with no-cal ginger ale, to be served to very thin people."


And some recipes (all of them really, but if one suspends disbelief for a moment, just a few) seem not to be meant to be prepared at all, like the one for "Roast Igyuana Andulusean" which, "since this reptile is not met with on the American market and is only found in better gourmet shops on the Galapagos Islands it is superfluous to give recipes concerning its preparation".
The recipe for "Torte a la Dobosch" that will be sold at our Important Fall Auction has all the cheek of its companions. Before even beginning to cook, the chef must "Run down to Dick Camp's and buy an old wire whisk." The last step of the recipe then is to "hang the wire whisk on the kitchen wall above the rotisserie." Presumably without a rotisserie over which to hang one's whisk, the torte can not be prepared.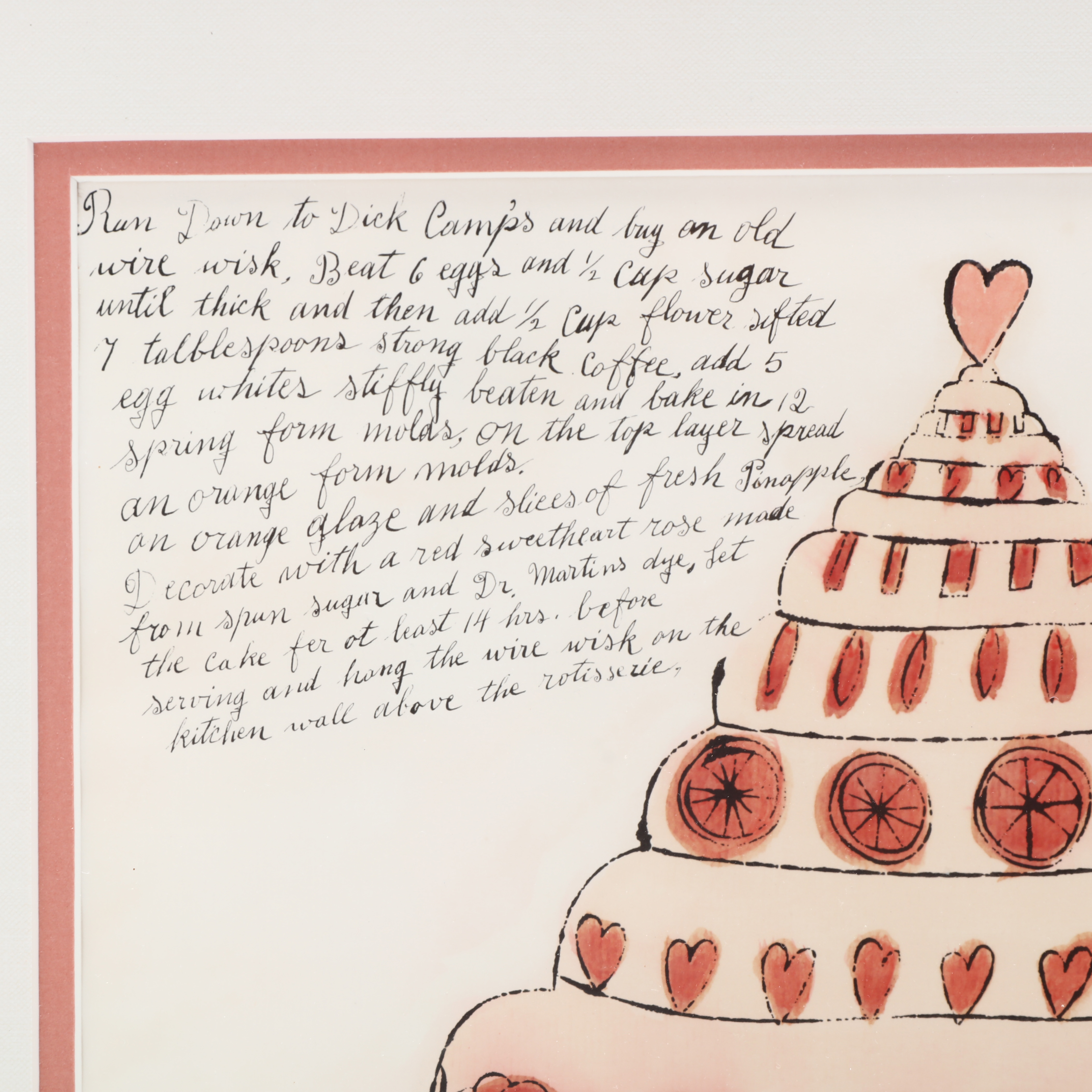 The art that made Andy Warhol famous is of course of an entirely different genre than these books of prints. His major themes were broadly commercial and sexual, and his work was fueled by fame, drugs and disco. But somewhere within was always the artist who loved cats and his mother. Although it's possible he was never much of a cook.
Content produced by the Leland Little editorial team