Perhaps by virtue of its earthen nature, pottery is not an artistic media with which one normally associates glamour and excess. But the mid century ceramicist Sascha Brastoff brought an element of glamour to all his wide-ranging endeavors, from show business to dance to pottery, his most commercially successful venture. In our Modern Art & Design Auction, being held May 23-30, we present an example of one of his most iconic ceramic patterns.
Brastoff was born Samuel Brostofsky in Cleveland, Ohio in 1917. He trained as a dancer in his youth, attended the Western Reserve School of Art, and danced with the Cleveland Ballet for a few years after graduating. But in 1940, at the age of 22, the pull of other artistic pursuits took him to New York, where he joined the Clay Club. Brastoff threw himself into ceramics while supporting himself as a window dresser at Macy's. In May of 1941, Brastoff had his first exhibit with the Clay Club Sculpture Gallery. All 37 of his pieces sold at the first showing, some to prominent museums including the Whitney and the Metropolitan Museum of Art. The event was covered in Time, Life, Harper's Bazaar, and Art Digest.
As for so many, the course of Brastoff's career was changed forever by the advent of war, though in Brastoff's case with signature theatricality. In 1942 Brastoff enlisted in the Air Force and was sent to Miami, where he languished for a short time as a mechanic. But he soon won a transfer to the Special Services Events division, and began to design sets for USO shows, just in time to become part of the slightly surreal propaganda effort that was the play Winged Victory. The play was the story of young men working their way through pilot training, and was cast almost entirely from the ranks of the Air Force. Brastoff, in addition to working on set and costume design, did a show-stopping impersonation of Carmen Miranda - GI Carmen Miranda, complete with a headdress crafted from a duffel bag and cooking utensils.
Winged Victory opened on Broadway in 1943 and was a smash hit. Its run ended only when the entire cast was shipped to Hollywood to make the film version of the play, in another truly serendipitous turn for Brastoff. Through his work on Winged Victory, he signed a seven year contract with 20th Century Fox to do costume design, including, ironically, for the real Carmen Miranda.
Within a few years, however, Brastoff negotiated his release from his contract with Fox and set up his first ceramics studio in a Quonset hut in West LA. He quickly became a darling of the Hollywood elite, counting luminaries like Zsa Zsa Gabor and Joan Crawford as customers. One of his patrons was the billionaire industrialist and modern design enthusiast Winthorp B. Rockefeller, who backed Brastoff's first ceramics atelier. Brastoff moved out of the Quonset hut and in to a series of progressively larger and more glamorous plants, eventually building one with innovative modern architect A. Quincy Jones.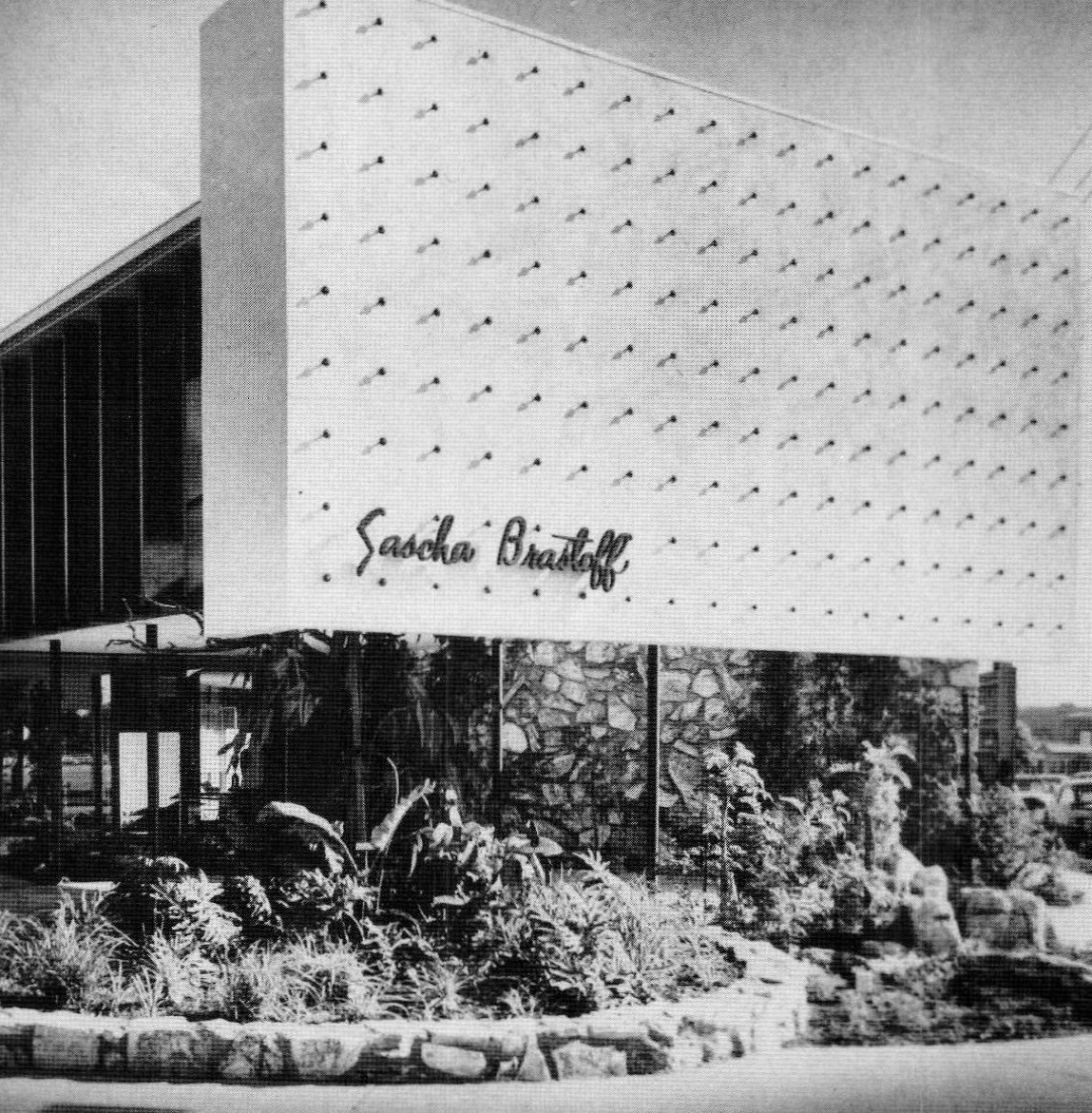 At the height of his company's production, Brastoff employed a team of 100 artists producing his designs. His work was intricately detailed and decorated, often requiring two firings to complete. "Surf Ballet", the pattern of the pieces in our May auction, is a swirling, marbleized design with gold or silver luster, which he produced in a variety of colors. It was hugely popular and often copied, even today. Brastoff made tableware, sculpture, and jewelry, lamps and more. Besides the production of his atelier, he created specially commissioned metal sculptures for Rockefeller and for television and movies, in which he also appeared frequently to promote his brand.
But by 1962, the pressure of artistic popularity caused to Brastoff to make tenuous financial decisions that ultimately led to his mental collapse and departure from his eponymous company. After years in the limelight, Brastoff retreated from the world entirely. His company continued to produce under his name until it closed in 1974.
Brastoff eventually did begin creating again, though he never branched out from solo production. He worked some in the newly popular resin and styrofoam, as well as large metal sculptures. He also licensed his name to several jewelry, pottery, and metalworking companies.
Sascha Brastoff died in 1993 after almost a decade of ill health. While the latter half of his life wasn't marked with the same outsize stardom as the first, the whole of his career encompassed a truly astonishing breadth of success. He was genuinely larger than life, and one of the true design influencers of the mid century era.